5 things to know before buying a baby change table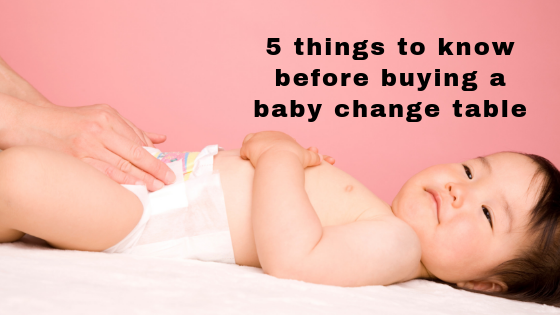 When a baby comes along, it really does change your life. There are so many baby items and equipment to buy and it can become expensive, but also confusing with hundreds of products on the market. Â If you`re a first-time parent there can be lots of things you just wouldn`t normally think of and choosing the right baby change table can be one of them!
We`ve pulled together the top five things you should know before purchasing a baby change table for your nursery to ensure a safe baby changing experience, value for money and comfort for you as well as a baby too!
Safety should always be the number one priority for any piece of baby equipment. Cheapest is definitely not best when it comes to your child`s safety. Check for sharp edges, toxic material finishes and little gaps and straps which could trap fingers or choke your baby. It only takes a second of being distracted for an accident to happen, so be sure to have a safe, sturdy, hazard-free changing table.
A sidebar, or a molded, dipped shape to keep your baby secure and prevent them from rolling off the baby change table is a must. Also, look for a changing table that has a safety strap to keep your baby happy and secure whilst you change them.
Space and storage are also important considerations. Think about the size of your baby change table and mentally walk through how you would use it. Some cheap option free stand change tables need to be expanded and folded out, which would be impossible to do whilst holding a crying baby. Other change tables can be fixed to the wall which is ideal for apartments and small nursery rooms. Also, consider a baby change table which can also store all your handy items such as nappies and wipes in the same location. Reducing the risk of being distracted or walking and stretching to get items.
It`s not all about the babies! Your health and wellbeing are also important. Lifting a baby on and off a baby change table can damage and twist your back. Look for a high-quality baby change table which is at a comfortable height for you to use frequently, or better still look for a changing table which can be adjusted and fitted to your perfect height. This will make for a pleasant, comfortable experience for you and your baby.
Cleaning and hygiene are paramount where babies are concerned. Avoid porous or cheaply made materials, instead, look for moulded baby change table designs that are easy to wipe clean. There are also some baby change tables that are made with antimicrobial materials, giving you an extra layer of protection when it comes to health and hygiene.