5 Accessories That Every Commercial Bathroom Needs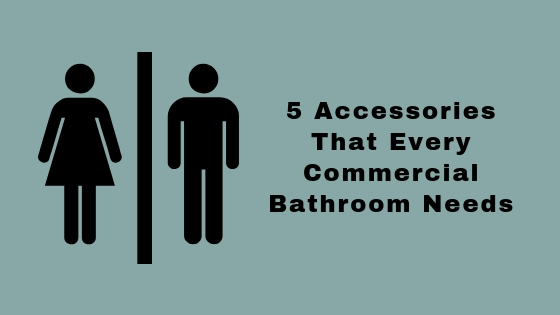 A commercial bathroom is a little different to your bathroom at home. There are multiple cubicles; often a row of urinals in the men's bathroom and the foot traffic is far higher than the average family home! Large corporate offices or public spaces such as sporting and entertainment venues can have thousands of users a day. So, which are the 5 best washroom accessories that every commercial bathroom needs?


Toilet Paper Dispenser
Let`s get down to basics. No one can use a bathroom comfortably, or hygienically, without easy access to toilet paper. The difficulty cleaning managers of high traffic and commercial bathrooms face, is that toilet paper can be stolen, vandalised and reams of wasted paper can end up clogging drains and overflowing toilet pans. It can be a real headache for facility managers and cleaners to manage, so, choosing the right commercial toilet paper dispenser is important. Depending on the bathroom you are managing, look for large roll dispensers, single paper dispensers and vandal proof designs to keep your commercial bathroom running smoothly.
Toilet Brushes
Every toilet cubicle in a commercial bathroom should have a toilet brush and holder. This encourages patrons to clean up after themselves when using the bathroom and also a handy cleaning utensil for the cleaning staff.
Soap Dispensers
Every commercial bathroom needs to have a soap dispenser to encourage hand washing and reduce the spread of germs and bacteria. Soap bars are easily lost and unhygienic for many users, yet a commercial bathroom soap dispenser expels just the right amount of soap for one wash in a clean, hygienic way. Commercial soap dispensers can come in many styles and sizes to suit any bathroom.
Commercial Hand Dryer
To prevent waste on the floor and clogged toilets, pipes and drains, make the switch from paper towels to a commercial hand dryer. Modern technology hand dryers such as the Velo range of commercial hand dryers offer a wide range of colours, finishes and budget levels. Look for a hand dryer that is energy efficient, low noise and comes with added hygiene benefits such as ion-shield technology and HEPA filters to remove 99% of germs and bacteria.
Baby Change Table
A modern commercial bathroom should be as inclusive as possible and that means providing access to a baby change unit, either in one of the bathrooms, or a dedicated parent room. Most office washrooms, cafes, and restaurants don`t have space for a dedicated parents room, but there are some safe, sturdy, hygienic options for wall mounted, fold down baby change tables which are a welcome benefit to any parent who may frequent your office or business.