5 Reasons You Should Choose Velo Hand Dryers For Your Business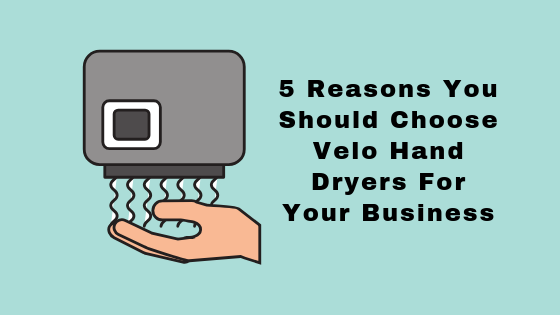 Velo hand dryers challenge the market leaders in hand dryers. They give Dyson a run for their money when it comes to design, innovation, speed and when it comes to cost, they knock it out of the park and beat Dyson and other market leaders in commercial hand dryers.
Need more convincing? Here are five good reasons you should look at Velo when purchasing commercial hand dryers for your business whether it's a large corporate office building, or a small cafe or medical centre. Velo has you covered.
European Design
The Velo range matches stunning European moulded design with innovative function and long lasting performance. The Velo Veltia Tri-Blade delivers quick-drying, Ion technology, energy efficiency and in-hand drying which is perfect for high traffic areas. The Veltia Fusion is the little brother of the Veltia family, but delivers powerful drying in the fraction of the time of its competitors and offers a modern, contemporary and moulded design. The Velo range of commercial hand dryers instantly updates any washroom.
Cost Efficiency
Cost efficiency with Velo goes much further than just the unit cost. Cheaper units may be tempting, but in the long run, you could be paying more. Budget range hand dryers not only have a shorter working life, but they tend to guzzle power and leave you with very high power bills. If you are looking for a cheaper per day cost and have green targets to meet for your business, consider one of the wide range of Velo hand dryers on the market.
Superior Hygiene
Velo brings lots of benefits, but a key one is increased hygiene for the patrons of your bathrooms. Reduce the spread of germs and debris in the workplace by choosing a hand dryer such as the Veltia V-Jet which comes with inbuilt Ionshield technology air purification system and a HEPA filter which removes 99% of germs and bacteria.
Low Noise
Noise is always the first downside when sourcing and switching to hand dryers over paper towels. This is particularly annoying if you work near a bathroom of a quiet office, or have a small bar, cafe, or other high street business. Velo understand this and have a range of low noise hand dryers which come in a range of styles, colours and sizes to suit any space.
Less Waste
Installing a Velo hand dryer means you instantly get rid of paper towels! Paper towels clog toilet pipes and drains and end up of the floor as a trip hazard. Unused paper towels end up stolen, spilt on the floor, wet and unusable. Take the cost of your paper towel bills and plumber call outs and weigh them up against an energy efficient, vandal resistant commercial hand dryer.