Understanding the Variety & Costs Of Soap Dispensers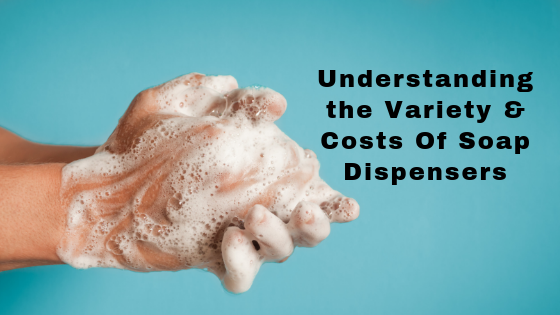 The first step to installing the right soap dispenser is to understand the different types of soap dispensers on the market and of course the cost differences.
The classic entry-level dispenser is the common white plastic soap dispenser which is usually stuck to the wall or a mirror with strong white adhesive pads. These soap dispensers are cheap to purchase and are ideal for low traffic bathrooms. They are easy to wipe clean but usually come in smaller sizes, which means frequent cartridge replacement. Heavy usage also means the adhesive will give way over a shorter period of time, so not recommended for busy or high traffic areas.
Stainless steel soap dispensers not only look good, but they are built to last. Most come with hidden refill windows and anti-vandal protection. Brushed stainless steel soap dispensers are more costly than their cheap white plastic counterparts, but are value for money in the long run. Once they are secured to the wall they are there to stay and remain in good working condition for many years.
Innovation in function and design extends even to soap dispensers! You can purchase innovative looking black moulded ABS design soap dispensers and ones with discreet, sleek, contemporary designs that are perfect for trendy bars, hotels, and modern office spaces. A unique design soap dispenser can cost over $100, but with it comes innovation, modern materials, and efficient soap and foam dispensing.
There are also fixed washroom units that wash and dry patrons hands at the sink. These new to market commercial wash and dry units are the future of public and commercial bathroom management and will entail a potential redesign of your bathroom and retrofit of tap fittings. Having the washing and drying facilities at the sink is very hygienic as it means no drips of water are trailed across the floor and germs and debris is blown off at the hand drying process stay within the sink. It also removes the need for paper towels which can end up as a slip hazard on the bathroom floor.
Once you've decided on the type of dispenser you require, there are a couple of extra considerations. Do you prefer liquid soap or a cleansing foam dispenser which costs less per use and tends to be less messy? Also, consider the size of your bathroom and the foot traffic per day. This will determine the size of the soap dispenser you need. You want to avoid the dispenser running out frequently and the extra work for your cleaners who will need to keep changing cartridges.