Velo Veltia Tri-Blade Hand Dryer Vs Jet Dryer Executive 2
In this video you will see how the Velo Tri-Blade hand dryer goes against the Jet Dryer Executive 2 hand dryer.

Velo Veltia Tri-Blade Hand Dryer Vs Jet Dryer Executive 2
Velo Veltia is a product that has taken the market by storm. With its superfast speed and energy conserving features, it is one hand dryer that you just cannot pass by. However, as a consumer, it's always a wise idea to do some comparison testing before you purchase anything. This is why we are here to compare Velo Veltia with Jet Dryer Executive 2.
Let's compare the two models based on their features.
Drying time
People don't generally stand and wait in restrooms for their hands to dry. This is why it's extremely important to get a hand dryer that does its job fast. While the Jet Dryer Executive 2 takes 10-15 seconds to dry your hands, Velo Veltia does this in almost 6-8 seconds. Time is a very important factor in public restrooms. Also, Velo Veltia consumes 3.9W per use, while Jet Dryer Executive 2 uses 4.2W per use.
Motor type
Velo Veltia comes with twin brush motors, and both of them are made with quality materials and fine engineering, guaranteeing a long life. The Air Blade, in contrast, comes with a single brushless motor.
Case construction
While Jet Dryer Executive 2 is made of ABS plastic, Velo Veltia is made of vandal resistant ABS, which keeps the unit protected from miscreants.
Anti-bacterial properties
Velo Veltia has anti-bacterial properties in the hands area as well as the water tank. Compare this to the anti-bacterial properties of Jet Dryer Executive 2 that are limited just to the blades. Velo Veltia makes sure that your clients are safe from harmful bacteria on all levels.
Colours and Warranty
While Velo Veltia comes in a range of colours, your options are pretty limited with Jet Dryer Executive 2. Apart from that, the Veltia has a warranty of 5 years, but the Executive 2 has a warranty of only 3 years.
And finally, let's compare the prices. Velo Veltia can be bought for just $1,350, while you'll have to pay $1,490 for Jet Dryer Executive 2.
Which model are you planning to buy?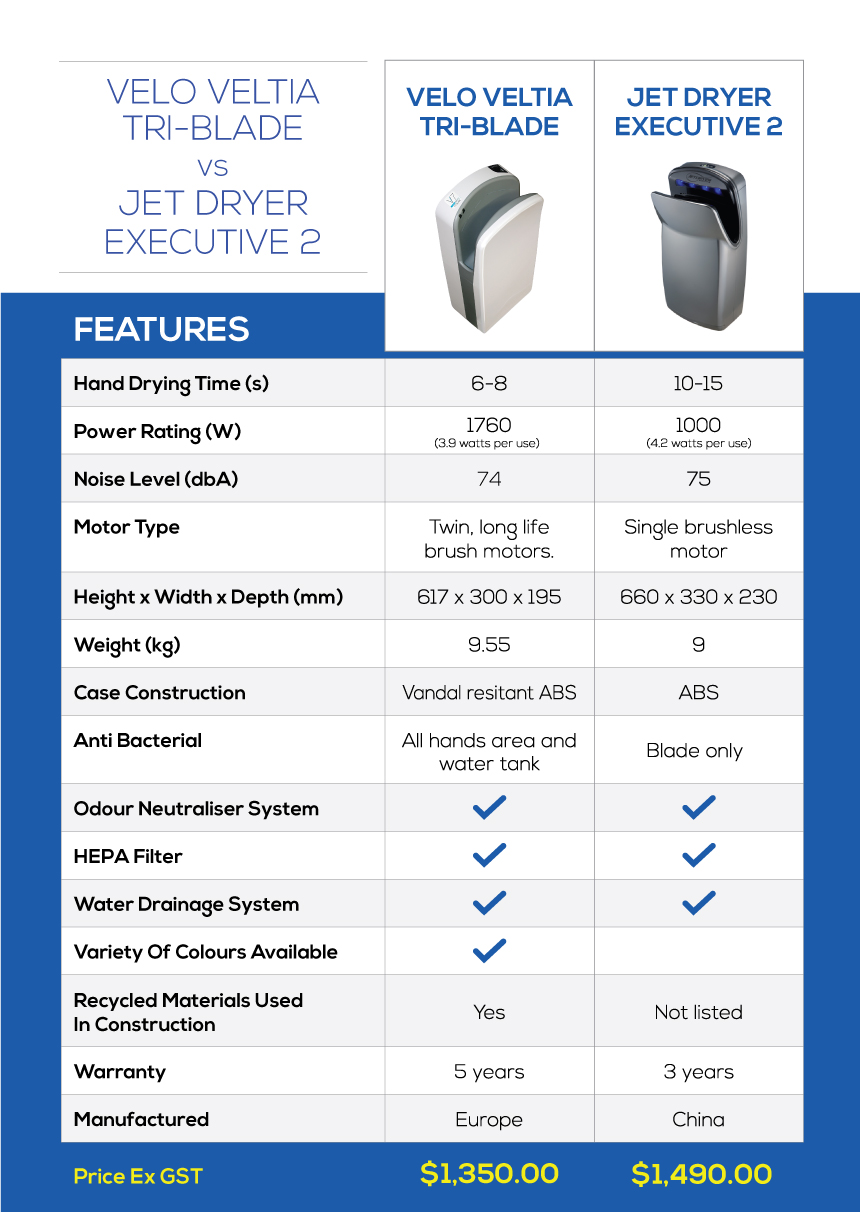 ​