The Best Positions to Install Grab Bars
Where is the best place to install grab bars in a bathroom or shower? The short answer is, wherever you need them. Before committing to a new installation, chat with your tradie and ask for their recommendation. They will usually want to take a look at your property and suggest a customized solution.
Some of the most popular positions of grab bars include:
Toilet grab bars
Shower grab bars
Wall-to-floor grab bars
Installing grab bars near your toilet is perfect for helping you to sit down and get up more easily. Rather than struggling or relying on external help, a grad bar can often provide all the support an older person needs.
Apart from your toilet, consider adding a grad bar near your bathtub or your shower. Stepping in and out of wet tubs and shower basins is precarious for anyone. For elderly family members, it can even be dangerous without a little extra support. Grab bars are a great option in those situations.
Types of Grab Bars
Just like there is no right or wrong location for a grab bar, there is no right or wrong type of grab bar to choose from. Before settling on your favourite, take a look at your space and get expert advice to help you make the best choice for your requirements.
STRAIGHT GRAB BARS
Straight grab bars are the simplest and most commonly found grab bars around Australian bathrooms. They are easy to install near toilets, showers, or bathtubs and provide basic support.
​
ANGLED GRAB BARS
Need a bit more support than a straight grab bar can provide? An angled grab bar may be the right choice. L-shaped and featuring three points of support, this bar allows users to grab it from different angles. You could almost think of it as two straight grab bars combined into one sleek bathroom accessory.
​
WALL TO FLOOR GRAB BARS
Wall-to-floor grab bars were specifically designed to make bathroom facilities more accessible for the disabled. Running at a 90-degree angle from the wall to the floor with an additional 90-degree angle at a lower height, these bars offer even more options for people with limited mobility to get around.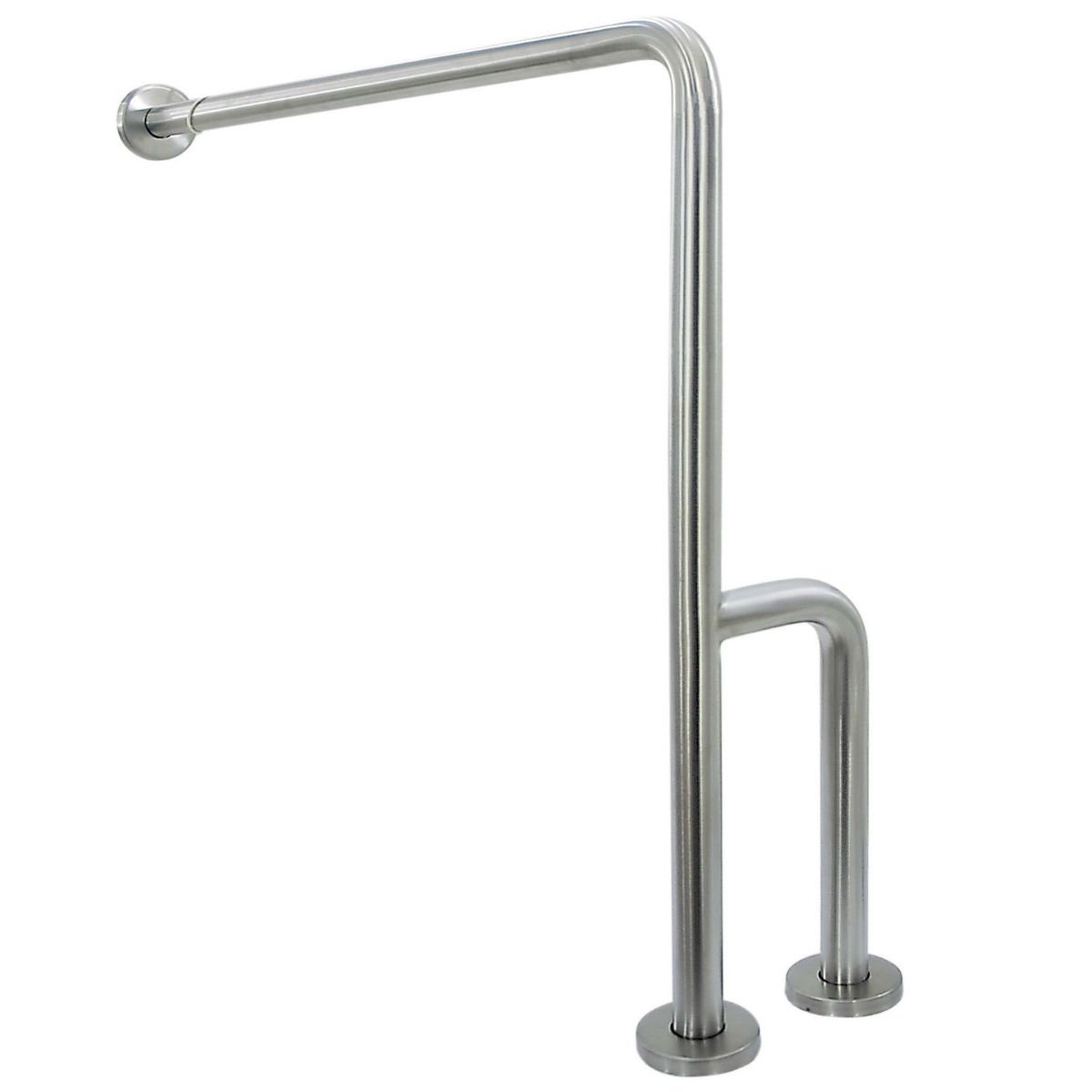 ​
SWING-UP GRAB BAR
Swing-up grab bars are another excellent option for people with disabilities as well as mobility issues. They are installed directly into the bathroom wall and can help save space whilst increasing safety.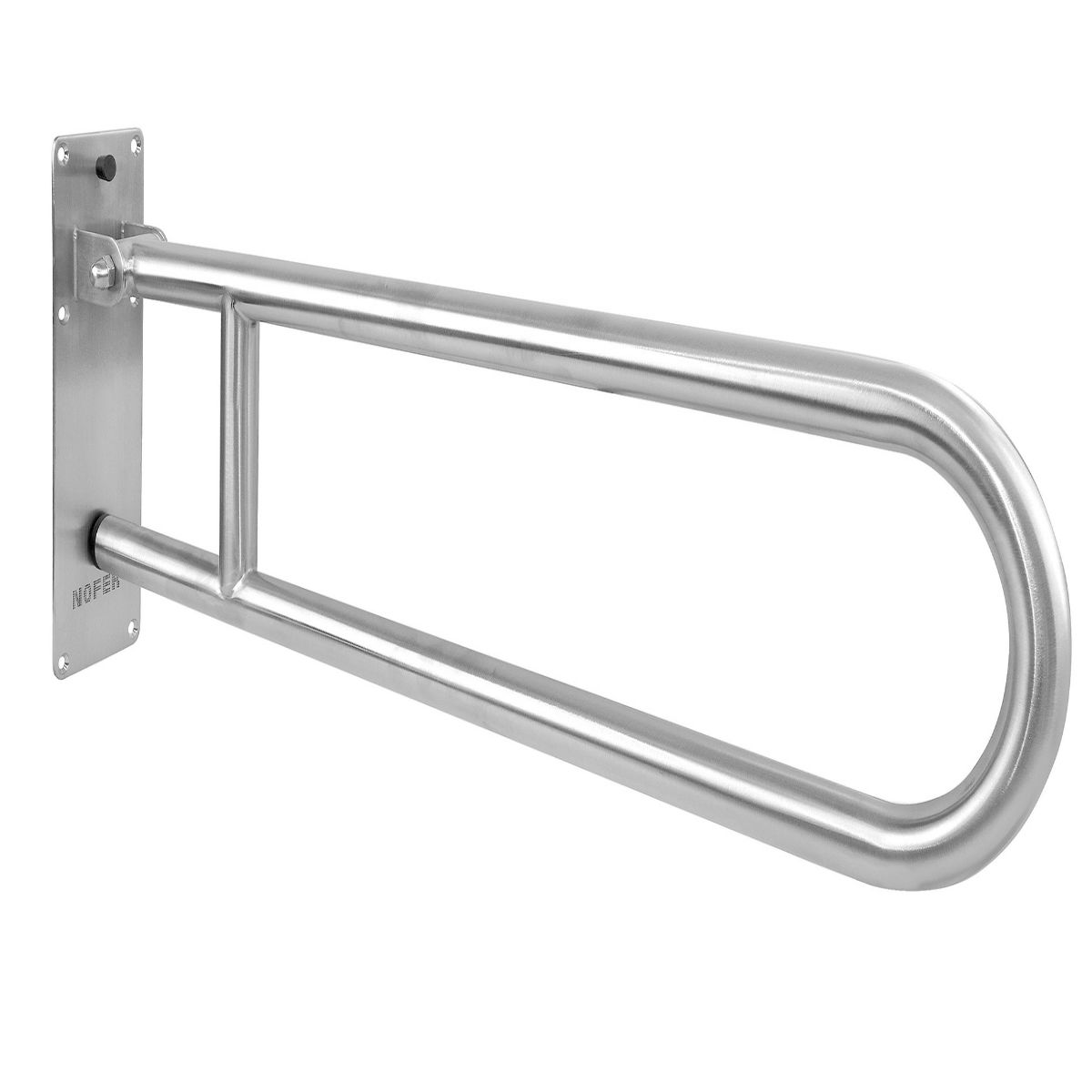 ​
What is the Best Height to Install Your Grab Bars?
Is there a standard shower grab bar height or a standard grab bar height in general? Unfortunately, no set number will suit everyone. Choosing the right height for your grab bars depends on several factors, including how you plan to use them and your size.
Experienced contractors will always be happy to advise on the best height to install your grab bars. Don't hesitate to ask for professional advice and take the time to discuss your needs in detail. Properly installed grab bars can prevent accidents and help you live independently in your home.
What's more, most manufacturers offer guidance on the best installation height, too. For straight grab bars, 70 to 75 cm from your floor is a suitable height. Manufacturers recommend the same height for swing-up grab bars, which are most often used in accessible environments. However, people with very specific needs or anyone particularly short or tall may want to deviate from this recommendation.
Anything Else to Consider?
Toilet grab bars and shower grab bars come in different finishes. The two most common finishes include polished stainless steel and stainless steel with a white nylon coating.
Choosing the right finish starts with considering how it will fit into your bathroom design. Moreover, it is important to understand the differences in maintenance required. Stainless steel needs a little more attention because persistent dust can damage the chrome in the stainless coating over time.
To preserve the shiny good looks of stainless steel, it is worth investing in special cleaning products. Grab bars with a white nylon coating are somewhat easier to maintain, simply requiring regular cleaning and disinfection, depending on their location.
Installing shower grab bars and toilet grab bars makes it safer and more convenient to use your bathroom. With a little expert advice, choosing the right product is easy and straightforward.